BATA folding table
€

789,00

€ 951,00 (tax included)
Immediate availability



Free shipping to Italy

Discount: 17%
You save: € 162,00

Brand: Smartbeds
Delivery time: 2-6 weeks
*Delivery times may increase if the product is not available in stock.

Available in 2 copies

Volume: 0.27 m3
Weight: 15 Kg
Quantity:
Vuoi maggiori informazioni su questo prodotto? Scrivici!
Un nostro operatore ti risponderà al più presto!
Choose the finishes
€

789,00

€ 951,00 (tax included)
Quantity:
Description
Bata folding table with metallic structure colored embossed aluminum. Easily open and close.
N.B. Wall fastening mandatory
Table Available in: Melamine Solid slatted teak oil
Additional elements (wardrobes, bookcases, containers...) can be customized in all specify measurement.
Caratteristiche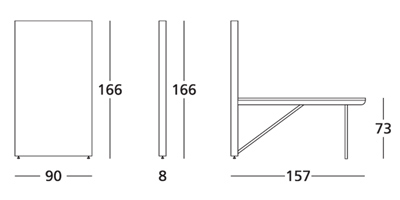 Width:90 cm
Height:166 cm
Depth:8 cm
Related Products
Newsletter
Subscribe now to our newsletter - You will receive offers news, offers and more.